32004-32040
Number
d(mm)
D(mm)
B(mm)
320 SERIE
32004X
20.00
42.00
15.00
32005X
25.00
47.00
15.00
32006X
30.00
55.00
17.00
32007X
35.00
62.00
18.00
32008X
40.00
68.00
19.00
32009X
45.00
75.00
20.00
32010X
50.00
80.00
20.00
32011X
55.00
90.00
23.00
32012X
60.00
95.00
23.00
32013X
65.00
100.00
23.00
32014X
70.00
110.00
25.00
32015X
75.00
115.00
25.00
32016X
80.00
125.00
29.00
32017X
85.00
130.00
29.00
32018X
90.00
140.00
32.00
32019X
95.00
145.00
32.00
32020X
100.00
150.00
32.00
32021X
105.00
160.00
35.00
32022X
110.00
170.00
38.00
32024X
120.00
180.00
38.00
32026X
130.00
200.00
45.00
32028X
140.00
210.00
45.00
32030X
150.00
225.00
48.00
32032X
160.00
240.00
51.00
32034X
170.00
260.00
57.00
32036X
180.00
280.00
64.00
32038X
190.00
290.00
64.00
32040X
200.00
310.00
70.00
The contact angle of tapered roller bearing on raceway is variable, which makes the applied axial and radial load ratio can be offset in any case; when the angle becomes larger, it has greater axial load bearing capacity.

Forsay has a wide range of tapered roller bearings, including separable elements, which can be easily adjusted in application.
This type of bearing is widely used in:
Wheel hub for light, industrial and agricultural vehicles
Gearing (transmission and differential)
Machine tool spindle
Power take off
1. Metric series
Metric tapered roller bearings are designed according to the European international standard ISO 492. They are divided into several subclasses according to their outer diameter and height.
This category uses standard classification method, combines load distribution under optimal speed and high performance, so it will be used in many applications.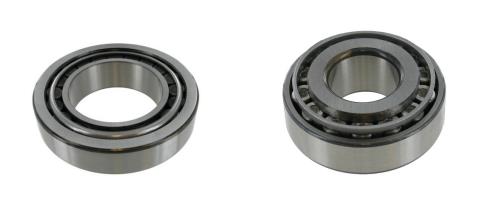 2. Inch series according to the American AMBA design standards, mainly in the United States market.
They include detachable and replaceable components that can be easily adjusted in any application.