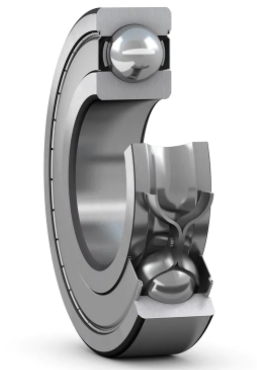 Deep Groove Ball Bearings
Deep groove ball bearings are the most widely used bearings in the industry, they are composed of the outer ring, inner ring, bearing cages, balls, and seals. Deep groove ball bearings are available in both single and double-row designs. Single row ball bearings are the most popular of all rolling bearings. They are simple in design, nonseparable and suitable for high-speed operation, and require little attention in service.
Bearing clearance refers to the amount of clearance between the inner ring, outer ring, and balls. clearance will influence the bearing life span and rotation speed, you need to choose different clearance when using in different conditions, According to the international standard clearance is classified into 4 groups. Small Clearance ( C1/C2), Normal Clearance (C0), Bigger clearance (C3), Big clearance (C4/C5) can be produced bearings according to the customer's requirement of clearance.
The deep groove ball bearings deep groove enable axial loads to be carried in either direction. Bearings are available with shields and seals can be supplied with the correct quantity of grease and used in operating temperatures between -30 to + 110 deg Celsius. Special bearings operate over a wide range. Re-lubrication in service is not required, Shielded and sealed bearings are primarily intended for applications where the inner ring rotates. In the case where the outer ring rotates, there is a risk that lubricant will be lost and the manufacturer should be consulted.
Deep groove ball bearings come in many sizes, materials, and varieties according to customer needs, including special industrial needs such as high-temperature applications. High-temperature bearings are made to withstand temperatures up to 350 deg Celsius.
Many Industries use deep groove ball bearings such as:
>> Shop for Single-Row Deep Groove Ball Bearings here
Features of deep groove ball bearings:
Simple in design with its wide dimensional scope: They are simple in design robust in operation and easy to maintain.
High rotational speed: Deep groove ball bearings are made with high-quality steel for premium performance in demanding applications where there are high loads and high rotational speeds.
Capable of receiving radial and bidirectional axial load: Deep groove ball bearing can support axial forces in both directions as well as radial forces. They had the capacity to handle greater loads and were versatile enough to be used in many applications.
Advantages of deep groove ball bearings:
Lower Noise Level means quieter in operation: The deep groove ball bearing is quieter in operation due to better quality of balls, the optimized surfaces, the higher stability of cages. They run very smoothly.
Lower Friction leads to lower Energy cost for operation: The friction in the bearing is reduced by optimizing surfaces, waviness, and roundness. The lower friction gives longer life.
Improved Sealing means efficient protection against contamination: Deep groove ball bearings with seals on both sides are greased using a high quality of grease, lubricated for life, and suitable for high speeds. They provide excellent sealing efficiency and exclusion of contaminants.
Better bearing life due to reduced lubricant loss: Deep groove ball bearings filled with customer-specific greases to meet specific application needs and operating conditions.
We are a Single-Row Deep Groove Ball Bearings supplier. Please feel free to contact us if you need them!