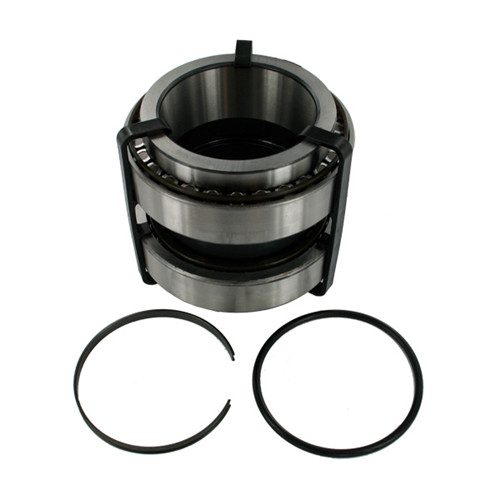 Wheel bearings are low-maintenance parts, but that doesn't mean they last forever. So, what does a wheel bearing actually do? How long does it last? And how can you help extend its lifespan?
What is a wheel bearing? And what does it do in a car?
A wheel bearing is a crucial part of the wheel assembly that connects the wheel and the axle. It is a set of steel balls (ball bearings) or tapers (tapered bearings), held together by a metal ring. It enables the wheel to rotate smoothly with a minimum of friction. Wheel bearings are safety critical components designed to sustain radial and axial loads caused by gravitation, acceleration, breaking & cornering forces, so they need to be replaced when they stop working properly.
How long does a wheel bearing last?
Wheel bearings have an average lifespan of 136,000 to 160,000 km (approximately 85,000 to 100,000 miles). This is only a rule of thumb though, the actual lifespan of a wheel bearing depends on the quality of the wheel bearing and the operating conditions.
Why do wheel bearings fail?
The main reasons that a wheel bearing fails are:
Faulty installation – inappropriate tools such as a hammer or an impact wrench can cause damage to the exterior and or interior of the wheel end bearing causing the wheel bearing to fail prematurely. Also, re-using the old accessories such as bolts, nuts, circlips, split pins, seals,… instead of replacing them with new ones can cause the wheel end bearing to operate under abnormal or unsafe conditions, increasing wheel end bearing wear and risk of a car accident.

Impact damage or poor road quality – all impacts from driving through a pothole, driving over speed bumps or hitting the curbstone can damage a wheel bearing and reduce its lifespan.

Poor quality wheel bearing – a wheel bearing is continuously under enormous pressure. Wheel bearings constructed of low-quality materials can have poor heat-treatment, resulting in premature wear and failure.

Driving conditions – driving through deep water or mud can cause your wheel bearings to fail. Water, mud or other contaminants such as dust or road salt could get past the seals and enter the bearing, polluting the grease and wearing away the bearings.

Car modifications – fitting bigger or wider rims, tires with lower thread walls, stiffer shock absorbers and suspension springs cause higher loads on the wheel bearing and can accelerate wear. Stick to rims, tires, shock absorbers and springs that are specified by the car manufacturer to minimize the impact on the longevity of the wheel bearings.
What are the symptoms of bad wheel bearings
The symptoms of bad wheel bearings include:
A humming, rumbling or growling noise that increases with acceleration or as the vehicle turns.

A loud constant whining or grinding noise when the vehicle is in motion.

Clunking noises when driving over uneven road surfaces.

Looseness, excessive play in the steering wheel (vague steering);

Steering wheel vibration which changes with the vehicle speed or as the vehicle turns;

ABS malfunctioning. ABS system issues can be related to failure of the ABS sensor that is integrated in the wheel end bearing.
How Much Does a Wheel Bearing Replacement Cost?
The cost of a front wheel bearing replacement varies greatly among vehicle applications. Typically an estimate on a front wheel bearing repair for a domestic front-wheel drive car will be from $250 to $400.
Asian imports in the years 1980s to early 2000s would be pricier at $300 to $400 because of a two-piece hub and bearing design that will require higher part and labor costs. Modern rear-wheel drive light trucks carry a price of a front wheel bearing replacement of $300 to $400. European imports generally will estimate at a $400 — $600 replacement cost because of parts costs being higher.
Rear-wheel bearing replacements are a different story. Front-wheel drive vehicles have rear bearings that are not connected to the axle and drivetrain mechanism. They are easily replaced as a bolt-on assembly and estimate at $100 — $200 in most applications. Rear-wheel drive vehicles such as light trucks have wheel bearings that are pressed fit to the rear axle housing or onto the axle themselves.
Repairs on rear-wheel drive bearings require more extensive labor time because of extra steps that are involved in the process. Many Toyota and Nissan light trucks can estimate out at over $1,000–1,200 for rear axle bearing replacements.
What are the risks of driving with bad wheel bearings?
It's very rare for wheel bearings to fail immediately and completely after you notice the first symptom(s).
Having said that, it is best to avoid driving with a worn wheel bearing for any length of time. As we've already seen, the wheel bearing is essential for connecting your wheel to your car, and any weakness in this connection could have severe consequences for your drive-axle and steering assembly – as well as for your safety.
Replacing your wheel bearings
Despite the fact that modern wheel bearings are easier to install than previous generations, correct installation, the usage of appropriate tools and respecting the specified torque values are still essential for maximum performance, durability and safety. Therefore, we recommend having your wheel bearings fitted by a professional mechanic that has the skills and the tools to do the job.
Quality replacement parts
When replacing your wheel bearings, it is essential to look for high-quality parts. MOOG offers a complete range of easy to install, premium quality, long-lasting wheel end bearings that are engineered, manufactured, tested, and validated to OEM standards for maximum performance and durability.
Longfei Bearing has more than 20 years of experience in automobile bearing design and manufacturing, which can meet the most stringent requirements of customers. Products through ISO/TS16949, ISO9001, THE EU CE certification, and other certificates, won domestic and worldwide customer recognition. The initial design concept of the plant was to produce bearings of high quality and performance based on the following core principles.
We would love to hear your feedback! Contact us to share your thoughts!